About Us
The Herb Kohl Educational Foundation Award Program
The Herb Kohl Educational Foundation was established in January, 1990 and funds the programs described below.
EXCELLENCE SCHOLARSHIP Awarded to date: $4,300,000 to 2,800 students
Excellence scholarships, currently $10,000 per student, are awarded to 100 graduating high school students each year. The statewide competitive selection process begins at the local level, with the number of nominations from each high school based on enrollment. The applications of local nominees are sent to regional screening panels, composed of teachers, administrators, civic leaders and community representatives. Final selection is made by a statewide committee composed of civic leaders, representatives from the Wisconsin Council of Religious and Independent Schools, Wisconsin Newspaper Association Foundation, Cooperative Educational Service Agencies, Wisconsin Parents Association, and several other education-related associations.
Scholarship recipients are chosen for their demonstrated academic potential, outstanding leadership, citizenship, community service, integrity and other special talents.
FELLOWSHIP AWARD Awarded to date: $7,400,000 to 2,800 teachers and their schools
Teacher fellowships, currently $6,000 per teacher, are awarded to 100 Wisconsin educators in grades pre-K through 12. Each fellow's school also receives a $6,000 grant. The educator nomination process begins within each public school district, or nonpublic school organization. Further screening takes place at the regional level, and the statewide selection committee chooses the award recipients.
Educators are chosen for their superior ability to inspire a love of learning in their students and ability to motivate others, and for their leadership and service within and outside the classroom.
​​​​INITIATIVE SCHOLARSHIP Awarded to date: Approximately $3,125,000 to 1,715 students
Initiative scholarships, currently $10,000 per student, are awarded to approximately 100 graduating high schools students each year. This scholarship recognizes students who have demonstrated a high level of motivation to achieve, have shown strong promise for achieving success in college and beyond, and have overcome significant personal obstacles or adversity, but have not yet received other academic-based scholarships. One hundred different high schools throughout Wisconsin are designated annually, based on a seven year statewide rotation cycle, to select an Initiative Scholarship recipient.
LEADERSHIP AWARD Awarded to date: $384,000 to 48 principals and their schools.
The Leadership Award was established in 2016 to recognize outstanding Wisconsin principals in grades pre-K through 12. Award recipients are chosen for setting high standards for instruction, achievement and character, and creating a climate to best serve students, families, staff and community. Annually 16 principals receive an award, currently $6,000 per principal, and each award recipient's school receives a matching $6,000 grant.
As of August, 2017 the foundation has awarded a total of approximately $14.5 million to Wisconsin educators, students, and schools.
​HERB KOHL PHILANTHROPIES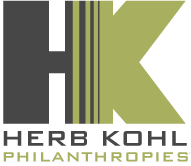 The Herb Kohl Educational Foundation is a component of Herb Kohl Philanthropies, which supports several initiatives, all aimed at improving education, economic opportunity and quality of life for the people of Milwaukee and Wisconsin. These initiatives include Herb Kohl Charities and Learning Journeys, in addition to the Herb Kohl Educational Foundation.